Commonly referred to as Bed-Stuy, the Bedford-Stuyvesant neighborhood of Brooklyn, New York boasts culture and charm at every turn. Its rich history has made it one of the city's most iconic neighborhoods, with superstars like Jackie Robinson and Jay-Z having once called the community home. The property selection is impressive, featuring many buildings with old-school architecture dating back to the 19th century, and its entertainment scene is simply phenomenal. The trendy atmosphere creates an exciting environment for recreation and leisure, attracting people from all over the state to experience the lifestyle throughout its bustling streets.

When it comes to dining in Bedford Stuyvesant, residents and visitors have no shortage of delicious options. From tasty grab-and-go joints to chic bistros to high-end restaurants, there's fantastic food waiting to be tried all over the vibrant neighborhood. Its selection of international cuisines is spectacular, serving mouth-watering food from just about every corner of the world. The hip decor, gracious hospitality, and delectable dishes throughout its establishments always guarantee a great time and a top-notch meal, with venues suited to accommodate any guest or group.

On your next outing in Bedford Stuyvesant, give your taste buds a treat by enjoying a meal at one of these top six restaurants in the neighborhood.
Peaches
When it comes to southern comfort food, few places can compete with
Peaches
. Its menu features all the classic items, from grits to ribs and everything in between, and its outdoor patio area provides a terrific setting to enjoy a homestyle meal. The same owners also operate Peaches Hothouse in the neighborhood, which is a bit more casual but serves the same high-quality food. If you opt for the hothouse location, go for the Nashville-fried chicken to try its most popular menu item.
Grandchamps Kitchen & Market
You'd be doing yourself a real disservice by going to Bedford Stuyvesant without ever trying its Caribbean food, and one of the best places of all to sample it is at
Grandchamps Kitchen & Market
. The casual joint serves some of the most delicious Haitian cuisines in the city, such as fried plantains, crispy pork, and perfectly seasoned rice. Its authentic cooking and bold flavors will have you planning another trip back in no time.
Saraghina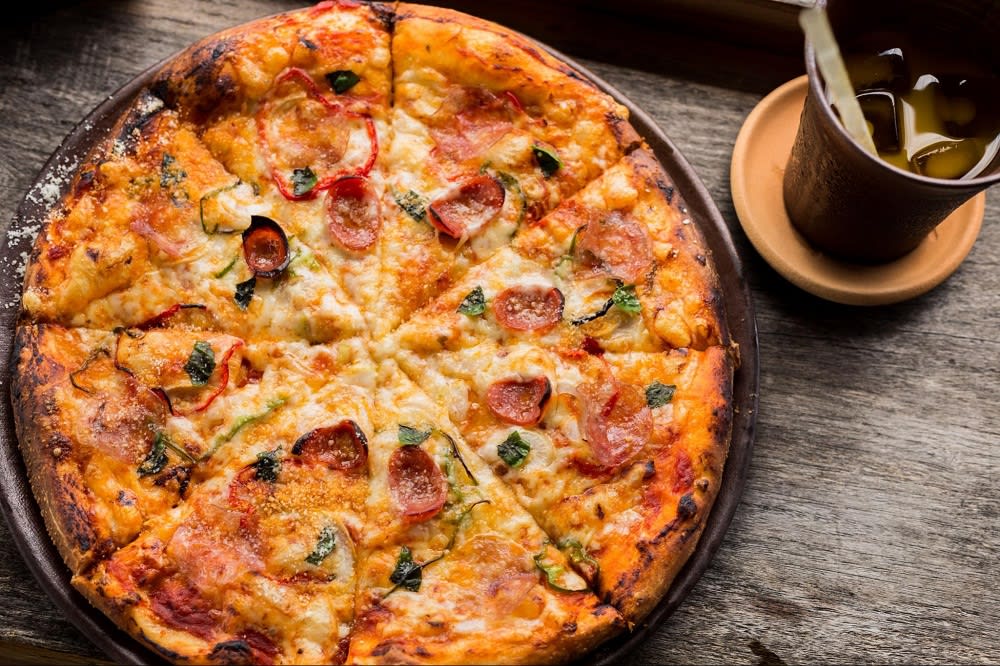 If a crispy pizza and some classic Italian staples are what you're craving, look no further than
Saraghina
. Their Neapolitan-style pies are simply amazing and come with no shortage of gourmet toppings, such as fresh prosciutto and creamy ricotta. When it comes time for dessert, their homemade gelato always does the trick. It has sidewalk seating and a back patio area as well, making it particularly appealing on a sunny day.
Winona's
As a go-to spot among locals for just about every occasion,
Winona's
is one of the hottest places to visit for a drink or a meal in the neighborhood. The all-day wine bar serves breakfast, lunch, and dinner, as well as beverages for late-night cocktails, with a wine list that features an impressive selection of global varieties. Its prime location right on the border between Bedford Stuyvesant and Williamsburg draws people on from all over Brooklyn, and its patio space is fantastic for people-watching.
L'Antagoniste
Bringing Parisian vibes all the way to Brooklyn, there's no better restaurant in Bedford Stuyvesant to enjoy French cuisine than the fabulous
L'Antagoniste
. With classics like steak frites and duck l'orange on the menu, its traditional flavors and posh ambiance provide a top-notch dining experience every time. Whether you're planning a date night or catching up with an old friend, you won't be disappointed with a dinner at L'Antagoniste.
Toad Style
When it comes to vegan food, the first place everyone in Bedford Stuyvesant goes to is
Toad Style
. Serving plenty of veggie burgers, veggie hotdogs, and cheesy dishes like eggplant parm and pizza fries substituted with almond cheese, its menu features all the cravings without any of the meat. The funky decor adds to its charm, with lots of Kung-Fu movie posters on display to look at while waiting for your order. While they may not be known for serving the healthiest vegan food in the neighborhood, they certainly cook up some of the most delicious.

Bedford Stuyvesant is bursting with hidden gems at every turn, especially when it comes to its culinary scene. To try some of the best cuisines the neighborhood has to offer, plan your next meal at one of its top-rated establishments. Peaches, Grandchamps Kitchen & Market, Saraghina, Winona's, L'Antagoniste, Fancy Nancy, and Toad Style are all phenomenal choices to attend, though, with so many outstanding options, you'll likely be in for a tasty treat no matter where you decide to dine.
Bedford Stuyvesant real estate
If you're planning to purchase a home or list a home for sale in Bedford Stuyvesant, Brooklyn,
Abdul Muid
of
Ivey North
can happily assist you. With years of experience handling
transactions
involving homes for sale in
Bedford Stuyvesant
, Brooklyn, their highly skilled agents will provide you with the expert insight and professional guidance you need to find the home of your dreams or sell your property for top dollar.
The Bedford Stuyvesant real estate market may be competitive, but with the right agent by your side, you'll be closing a deal in no time.
Contact the team at Ivey North today
to get started.